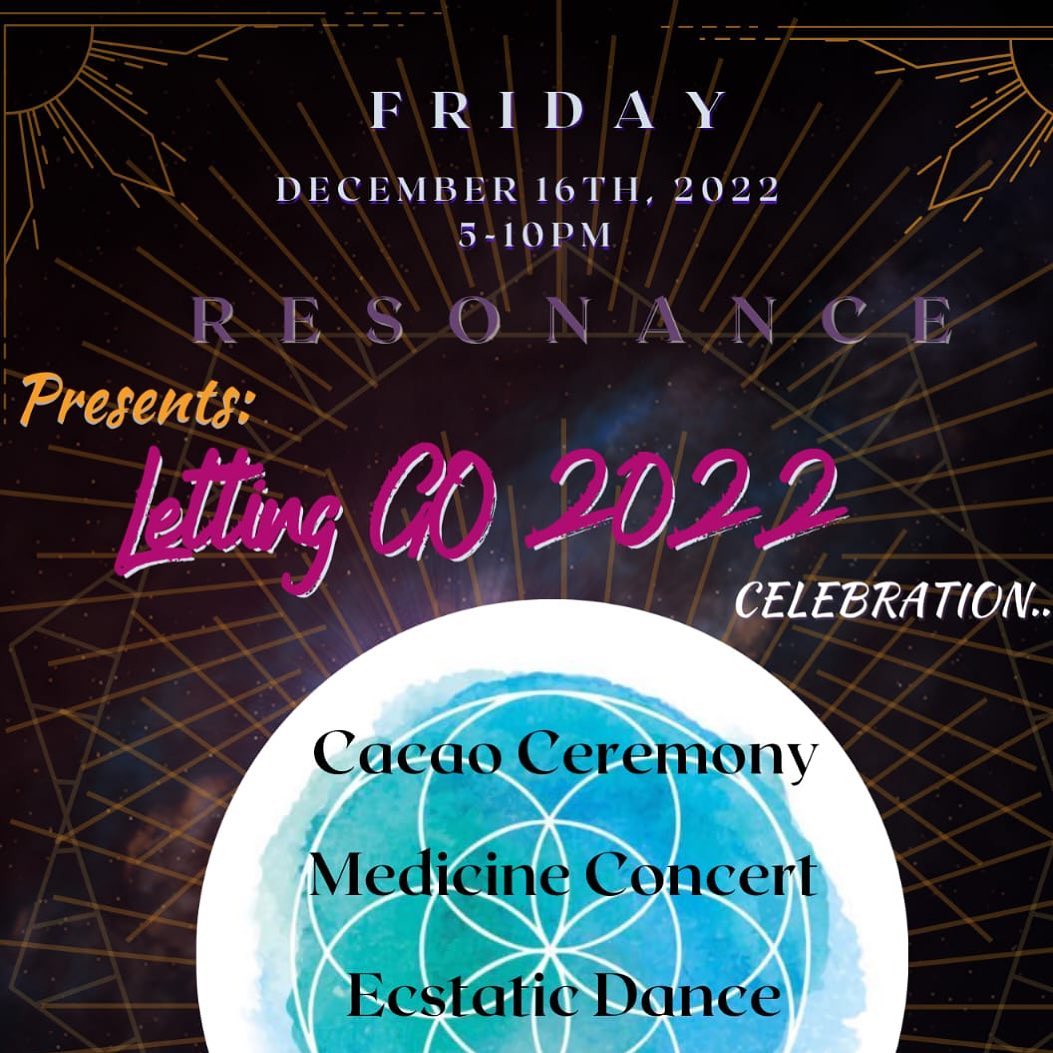 🌟𝕃𝔼𝕋𝕋𝕀ℕ𝔾 𝔾𝕆 𝕆𝔽 𝟚𝟘𝟚𝟚🌟 𝓪 𝓬𝓸𝓶𝓶𝓤𝓷𝓲𝓽𝔂 𝓬𝓮𝓵𝓮𝓫𝓻𝓪𝓽𝓲𝓸𝓷
Enjoy a unique frequency medicina experience with FLORA+FAUNA that will weave your senses through:
ᴄᴀᴄᴀᴏ ᴄᴇʀᴇᴍᴏɴʏ
ᴍᴇᴅɪᴄɪɴᴇ ᴍᴜꜱɪᴄ
ᴇᴄꜱᴛᴀᴛɪᴄ ᴅᴀɴᴄᴇ
ꜱᴏᴜɴᴅ ʜᴇᴀʟɪɴɢ
These modalities will guide you home to your inner harmony, reconnecting you in remembrance of who you are.
Sound and movement are natural medicines that evoke inspiration, creativity, and connection with yourself, others, and the Earth.
🎶𝑀𝓊𝓈𝒾𝒸 𝒾𝓈 𝓉𝒽𝑒 𝓂𝑒𝒹𝒾𝒸𝒾𝓃𝑒 𝓉𝒽𝒶𝓉 𝒽𝒶𝓈 𝓌𝑜𝓋𝑒𝓃 𝓊𝓈 𝓉𝑜𝑔𝑒𝓉𝒽𝑒𝓇 𝒶𝓈 𝓉𝓇𝒾𝒷𝑒 𝓉𝒽𝓇𝑜𝓊𝑔𝒽𝑜𝓊𝓉 𝓉𝒾𝓂𝑒. 𝒜𝓁𝓁𝑜𝓌 𝓉𝒽𝒾𝓈 𝓊𝓃𝒾𝓋𝑒𝓇𝓈𝒶𝓁 𝓁𝒶𝓃𝑔𝓊𝒶𝑔𝑒 𝓉𝑜 𝓈𝓅𝑒𝒶𝓀 𝓉𝑜 𝓎𝑜𝓊𝓇 𝒽𝑒𝒶𝓇𝓉, 𝒾𝓃𝓈𝓅𝒾𝓇𝑒 𝓎𝑜𝓊𝓇 𝓈𝑜𝓊𝓁, 𝒶𝓃𝒹 𝓂𝑜𝓋𝑒 𝓎𝑜𝓊𝓇 𝒷𝑜𝒹𝓎.
We begin our journey with a beautiful cacao ceremony to warm our hearts to SING for our medicine music concert. We will share a few traditional and modern medicine songs, inviting everyone to join in and sing along.
Next, we'll bring our creative expression to the dance floor, moving our bodies intuitively to an eclectic mix of tribal rhythms collected from around the world. We'll weave in live instruments throughout the dance journey, such as saxophone, flutes, guitar, didgeridoo, and more, blended with angelic and indigenous voices to inspire your movement. We will close our frequency medicina experience with a soothing sound bath to encourage gratitude and grounding.
💗𝓇𝑒𝓁𝑒𝒶𝓈𝑒 𝒶𝓃𝒹 𝒸𝑒𝓁𝑒𝒷𝓇𝒶𝓉𝑒 𝓉𝒽𝒾𝓈 𝓅𝒶𝓈𝓉 𝓎𝑒𝒶𝓇 𝓌𝒾𝓉𝒽 𝓊𝓈 𝓉𝒽𝓇𝑜𝓊𝑔𝒽 𝓈𝑜𝓊𝓃𝒹 𝒶𝓃𝒹 𝓂𝑜𝓋𝑒𝓂𝑒𝓃𝓉.
𝕎ℍ𝔼ℕ
📆 December 16th, 2022
🕒 5-10 pm
𝔼𝕏ℂℍ𝔸ℕ𝔾𝔼
Sliding Scale: $22-$44
Tico/Locals: $11
𝔸𝔻𝔻𝕀𝕋𝕀𝕆ℕ𝔸𝕃 𝔻𝔼𝕋𝔸𝕀𝕃𝕊
👨‍👩‍👧‍👦Family friendly Gathering
✖️Chemical & Alcohol Free